DELIVERY ORDER OPTIONS:
bespoke cases complete the form to receive tailor-made packs based on your preferences, for one-off orders or set up a regular delivery.
email to discuss requirements from my range of 150+ wines/ beers/ spirits. (not currently available online whilst website is updated)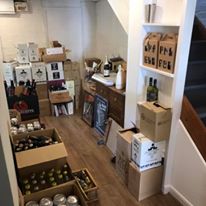 Specialist in small estate wines, beers & spirits - many organic and biodynamic selections.
THE SHOP IS LOCATED AT
The Old Granary
94 High St
Linton
CB21 4JT
*SHOP NOW RE-OPENED:
WEDS-THUR 1-5pm/ FRI 11am-5pm/ SAT 11am-2pm*
I still deliver in Linton and surrounding villages within a 10 mile radius - see right for order details >>>>>

Oct 2020
COVID UPDATE!
The shop is open again!!! *NOW DOWNSTAIRS AND REFURBISHED* (see pic, left)
Local delivery service will continue, min orders as before:
IN LINTON ITSELF:
2+ bottles of wine OR 8+ beers OR 1+ bottle spirits
UP TO 5 MILES FROM SHOP:
6+ bottles of wine OR 20+ beers OR 2+ bottles spirits
UP TO 10 MILES FROM SHOP:
12+ bottles of wine OR 40+ beers OR 3+ bottles spirits
Wherever possible I'm asking that you pay in advance via BACS or Paypal, if necessary payment can be made on your doorstep via card, contactless now up to £45. Delivery can be made to a safe place, if required/ preferred.
To keep up to date with more news, please also keep an eye on my
Facebook page
.